Canadian Interest Rates To Rise As Banks Turn Riskier Than U.S. Ones
The last thing Canada's heavily mortgaged homeowners need is an increase in monthly payments, but some experts are saying this is exactly what's ahead.
With earnings plunging in the oil patch and Canadians holding record levels of debt, the country's banks are turning riskier, and that means higher borrowing costs ahead.
Fitch ratings agency "expects the cost of credit to rise in Canada as banks feel continued pressure" in the tougher new economic climate, the company said this week.
"Consumer credit health is a concern due to the record household debt levels and … pressure on consumer loan portfolios in oil provinces, which is pushing up delinquencies in auto lending and credit cards," Fitch Senior Director Doriana Gamboa said in a statement.
Consumer insolvencies are indeed on the rise in Canada. Personal bankruptcies are up 6.3 per cent in a year, while "consumer proposals" — an increasingly popular alternative to bankruptcy — jumped by 13.2 per cent. That's happening as Canadian household debt hit yet another record high, and now sits at $1.65 owed for every dollar of disposable income.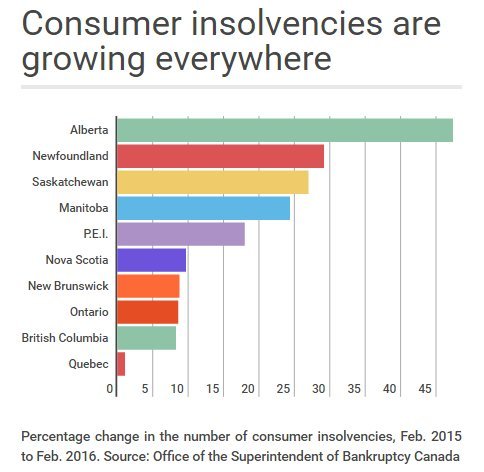 Riskier borrowers mean riskier banks. Canada's big banks have been named the world's safest repeatedly in the years since the financial crisis of 2008, but that may be coming to an end.
Bloomberg reports that Canadian banks' leverage ratio — a measure of how well a bank can absorb a loss — is now worse than at banks in the U.S. or Europe.